Scale of rhythm children
Build courses fast-paced for a learning of the coordination and speed of movement in children.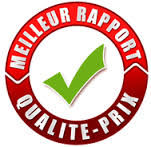 PVC, Fitted with clips to put multiple scales end-to-end. 5 slats plastic semi-rigid, adjustable with their carrying bag. .
The length of this scale of rhythm is very suitable for children and to put in place workshops are fluid and tailored to their abilities.
Pedagogically speaking, the nature of this tool will undoubtedly enhance the content of your course. Whether children, beginners, students confirmed or competitors, let your imagination run free and invent as much of the travel was more or less dynamic necessary for the development of physical skills to awaken or strengthen - A FLAGSHIP PRODUCT INFOKARATE.
SPECIFICATIONS MATERIAL
DIMENSIONS : Length : 2 m Width : 42 cm.
COLOUR : Yellow.