Scarves pinned by set of 4
Lot of 4 scarves pinned to hang on the kimono as targets to catch.



Sold by 4.
colors: variegated depending on the stock.
EXCLUSIVE INFOKARATE (Process submitted) - With a length of 20 cm, the scarves pinned to cling on any part of the kimono to serve as a target to catch.
The educational challenges of this tool are widely demonstrated and argued in the first 3 volumes of the DVD "The way teaching" on sale on this shop.
This accessory is almost indispensable in the field of teaching karate and martial arts for children and beginners, is ranked among our best sales..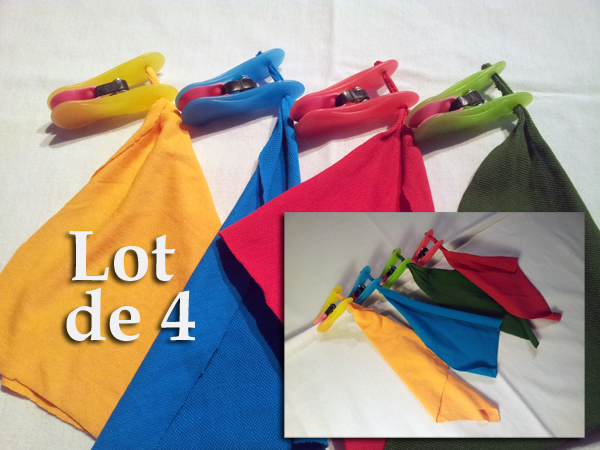 SECURITY AND RESISTANCE.
- The fixing of the scarf in the pin is the key point of this flagship product (a process filed in the INPI). It is designed in such a way as to increase the resistance of the clamp, avoiding that it does not become dislocated even if the student has retained it, while his opponent draws heavily on the scarf. It promotes at the same time the opening of the machoîre of the clip when the scarf is caught.
- The clamps are plastic moulded in a single piece and the edges are rounded (Safety)
- They did"not cause damage to the kimono
- Simple handling and accessible for children from 4 years old.
"...I think your concept is great and sustainable." G. Mony - Canada
"..the scarves work well and protect the little fingers of a samurai!" Alain Gallaux
Sold by set of 4 - color variegated
Example with DVD "The way educational Vol.2
Example with DVD "The way educational Vol.3