Lot of 3 Hurdles of initiation adjustable
Special interior and tatami - Adjustable in 3 heights ; 15 cm / 23 cm / 29 cm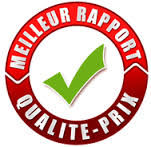 Excellent quality/Price ratio
Ideal to build sessions of traction, diversified, these fences adjustable on 3 heights (15 cm / 23 cm / 29 cm) allows us to provide different workouts depending on age and level of difficulty.
Practical and resistant, they are easily transportable and can be handled easily.
Their profile allows additional use on tatami mat or any other surface - A selection infokaraté

Sold by pack of 3, that you can double, triple, etc according to your needs (see "Quantity" in the context above "Add to cart")
As well :
if you enter "2" in the box "Quantity", you get 6 hedges induction adjustable.
if you enter "3" in the box "Quantity", you get 9 hedges induction adjustable.
etc...