Set Multi-Marker X20 + 10 milestones
Course hedges up to 20 plates and 10 milestones of 100 cm.

The SET MULTI MARKER is a set of 20 saucers marking 5 cm high and 20 cm diameter at soil + 10 milestones 1 meter long, 2.5 cm in diameter (milestones, standards).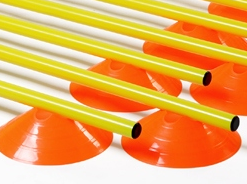 If in its original configuration the purpose of this set is to create courses of hedges by placing milestones on the cutting head of the saucers (See photo), the educational value of this material also lies in the aspect of multi-functionality of each element that composes it :
- Saucers of marking are also used to mark work areas on the floor or markers of shares
- Milestones are compatible with other devices such as our cones multifunction.
In sum, a set that is not limited to a single course hedge but that will allow you to expand your education channels in multiple configurations.
---
INFORMATION DELIVERY
This product is shipped by carrier DPD France
The delivery time of the CARRIER (DPD France) do not exceed the 48/72 hours (Time found), once the order is shipped.
For other destinations (Europe) : delivery times depend on the distance. Usually 4 working days.
If you are absent at the time of delivery ?
In case of absence of your share at the time of the passage of the delivery, leave in your mailbox a transit advice note.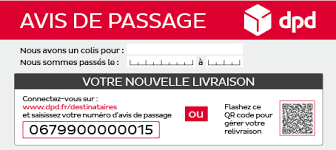 This notification is very flexible since it invites you to log on the website of the CARRIER ( www.dpd.fr to choose the delivery option that suits you. 4 possibilities are available to you :
Delivery to new address of initial delivery to the date of your choice (Does not deliver on Saturday),
Delivery to a new address and the date of your choice,
Delivery to a neighbour, caretaker or person of trust to the date of your choice,
Withdrawal of the parcels in the center of the yard DPD France the closest.
It is important to communicate us your phone number at the time of the creation of your customer account so that we can pass to the driver to warn you of his 1st (Monday to Friday) or simply agree with you to a new passage.
In case of need, please do not hesitate to contact us :
- 06 29 07 19 69 Monday to Friday from 9am to 18pm
- or by E-mail : contact@infokarate.fr