Elastic resistance
Band élatique of 4m for a work of resistance actions.

This elastic band is 4.5 cm wide and measure 4 metres long and can stretch up to 8 meters.
This material is particularly interesting because each end is terminated with a large buckle fastening with velcro that allows to lock effectively the band at waist and hook the other end to a post or other attachment point (carabiner...) or simply to the size of another partner.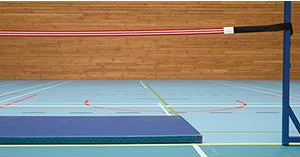 The application possibilities are multiple:
If the resistance to displacement for a building plyometric leg muscles is one of the first intentions of this equipment, it is easy to conceive of resistance exercises for the techniques of percussion by holding one end in the hand.
Combined resistance to displacement and resistance to the techniques of percussion becomes easy to pass the elastic band behind a fixation point so as to be able to use the 2 extérimités: one at the waist, the other held in one hand. And so on.
Nothing prevents them from passing the elastic band behind a fixation point (pole, carabiner...) in order to lock the ends to the size of 2 partners for a work as a duo (mtovation / duel), etc...
.