Scale pace double
Build paths of rhythm to a further development of the coordination and speed of movement.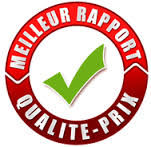 PVC. Ideal for work coordination, quality of support and frequency of movement.
The scale of rhythm double allows a gap supports more important as well as an increase in combinations of supports, making it more suitable for a work training.
Complete with clips to put multiple scales end-to-end.
10 slats plastic semi - rigid, adjustable with their carrying bag.
SPECIFICATIONS MATERIAL

DIMENSIONS : Length : 4.25 m. total Width : 84 cm.
COLOUR : Yellow.