DOWNLOAD - Teach a Kata to children
DOWNLOAD (316 Mb) - instructional Video

VIDEO DOWNLOAD free - instant Download (316 Mb)
------------------------------------------------------------
This video has been designed as an educational resource for teachers looking for inspiration to diversify their courses or for future teachers seeking training.
This video of a duration of 12 minutes is the stage for a set of teaching strategies for the learning of Kata in children and beginners.
A first part deals with the theories of learning on which will support the different teaching strategies developed in the second part.
In conclusion, the markers of progress available to teachers to enable them to understand and interpret the work done by their students in order to promulgate the guidelines most appropriate to their need.
EXTRACT
This series of teachers is an exclusive creation infokaraté.
Language : French
Duration : 12 minutes
Download immediate - 316 Mb (video in mp4 format, compatible with any player)
Test for FREE, a video sample to check the compatibility of your drive : Click here

* If your computer does not read correctly the TEST video (mp4 Format), choose a universal video player such as "VLC" (recommended)" > more information...
AUTHOR
Professor of sport and physical education and graduate status in Karate, Alain Foltzer is responsible for school managers in the league Limousin from 2004 to 2008, former member of the national commission on child of the French Federation of Karate (FF-Karate) and webmaster of the website Infokarate.com devoted since 2001 to the training of teachers of Karate (80 000 visitors per month). Alain Foltzer is also a teacher trainer of physical Education and sports in combat sports.
Director of the 5 DVD "The way teaching" and this series of instructional videos offered on Infokaraté are educational resources, particularly innovative and useful for any teacher in charge of one or several groups of children and candidates AFA, DAF, DIF, CQP and DEJEPS of the French Federation of Karate.
TECHNICAL INFORMATION AND PRACTICES

Payments accepted : credit Cards (CB, Mastercard, Visa,...), PAYPAL account, check (Only for metropolitan France), bank transfer national and international.
Download after confirmation of payment (immediate in the case of payment by credit card or Paypal account).
The client can inform the name of a club at the time of the creation of its customer account (This allows to establish the invoice in the name of the club).

Invoice available and printable from the account client.

Video only available for download : 316 Mb (ADSL or + required)
Video compatible with all readers - mp4 Format.
How to download your videos?
An email containing the link to your video to download you is automatically shipped once payment is confirmed (immediately, in the event of payment by bank card).
Note : it is important that the email you entered when creating your customer account, to be valid. Also make sure that this email did not end up in the folder "junk" of your e-mail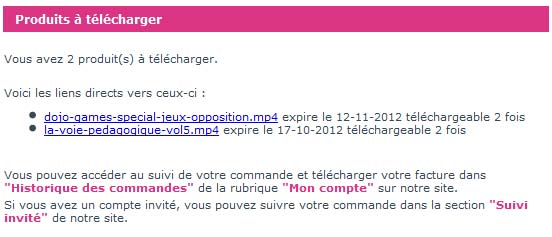 Your videos are then downloaded directly on your computer without being compressed. In other words, they are ready to be read once downloaded.
Outside of the download, you have no other manipulation to perform : You download and then you watch your videos on your computer.
Need help : contact@infokarate.com or 06 29 07 19 692.